Warehouse automation technology is evolving rapidly, and AMRs (Autonomous Mobile Robots) are taking the front row to build Smart Manufacturing facilities. Industry analysts project the market for warehouse automation technology will double in size from 2021 to 2026*.
More and more material handling tasks are being managed by robots as the industry is heavily investing in them as a scalable and efficient solution to address the phenomenal growth driven by labor shortages and the e-commerce boom.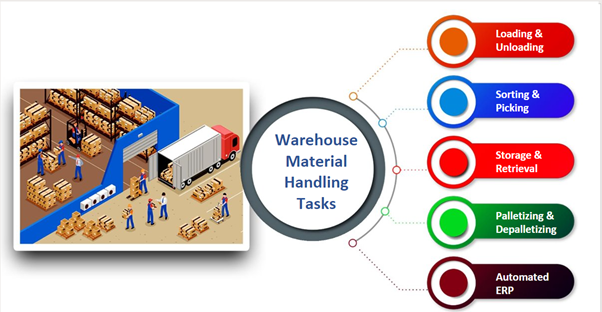 Towards Smart Warehouses: Automation of Material movement operations using AMRs
The prime objective of these types of facilities is to automate the production lines and inventory handling, by introducing AMRs (note that the industry is now transitioning from AGVs to AMRs), saving workers from walking daily marathons. AMRs enable material movement from point A to point B accurately and safely.
For example, the image below provides insight into automating a process cycle for material movement.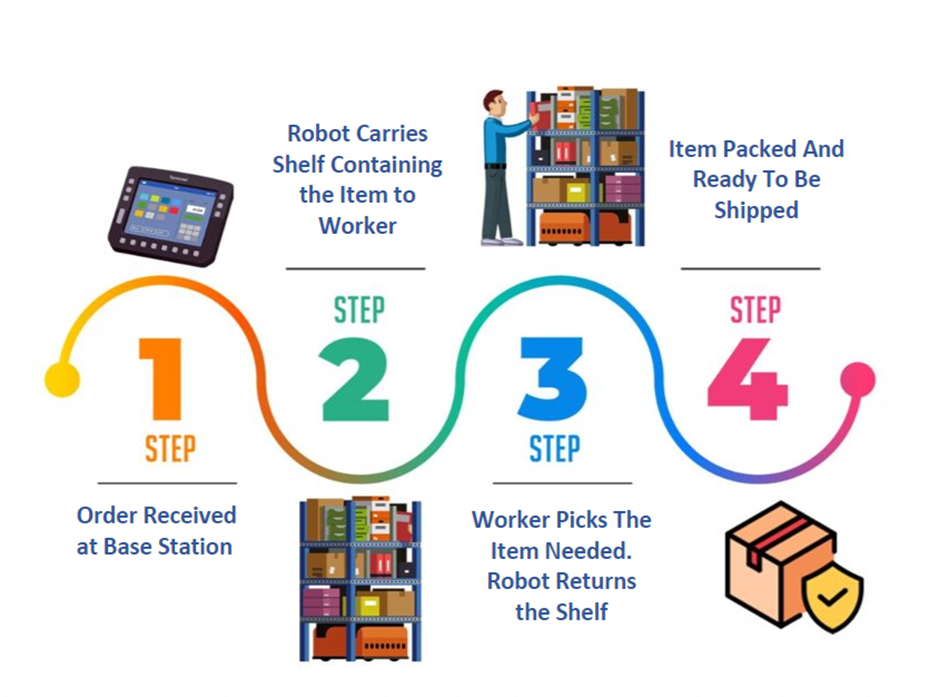 Under the hood of an AMR (Autonomous Mobile Robots) -
A combination of sophisticated Hardware & Software enables these agile mobile robots to function autonomously and reliably in their designated operable environment.
A glimpse into the Software Stack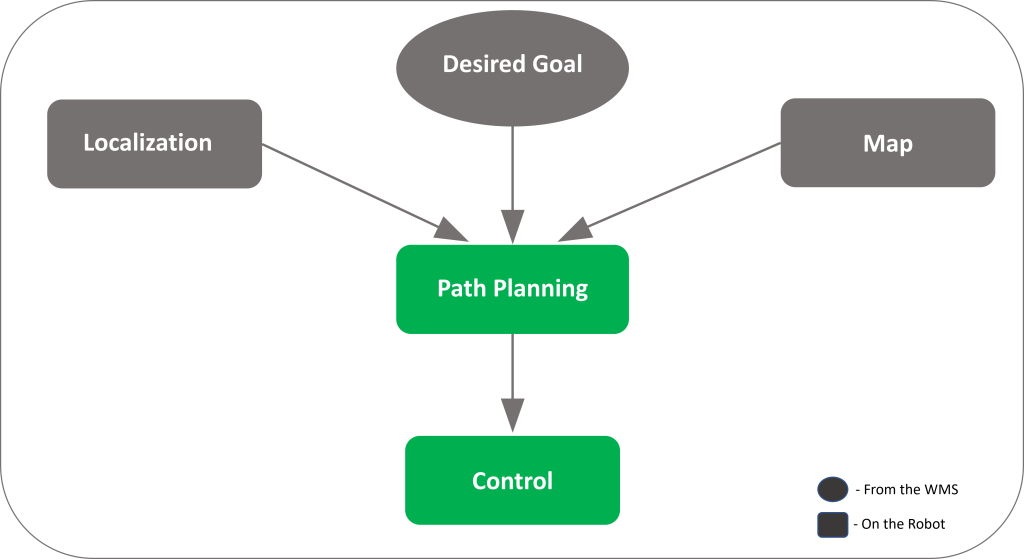 The above image summarizes the process of Autonomous Navigation. The modules in the software stack are explained below;
The desired goal is sent from the Warehouse Management System to the software stack running on the AMR via the WLAN.
Building a map of the environment as a first step prior to the deployment of the AMR on site. (Read all about it in our blog on SLAM-method used for Mapping based on data acquired from one or more sensors.)
Localizing the robot on that map is the process of determining where the robot is located, relative to objects in its environment
Making a motion plan according to the map is the process of determining a path for the robot to follow, to reach a 'goal'. A goal is just where you want the robot to go.
Executing that plan with a controller while avoiding dynamic obstacles by planning the path around it.
And Beyond: Human-Robot Collaboration
With the advent of AI (Artificial Intelligence), there is a tidal shift in the role of AMRs from just navigating the environment to understanding what is inside of it. This has also opened doors to more human robot collaboration.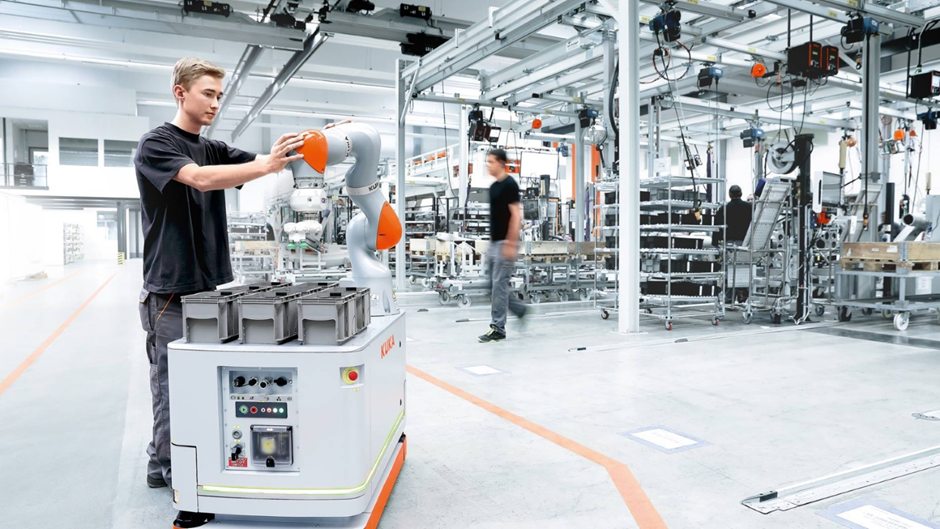 So, next Generation AMRs need a feature upgrade to adhere to this new norm. These includes built-in 3D cameras, advanced sensors, and voice & gesture navigation support.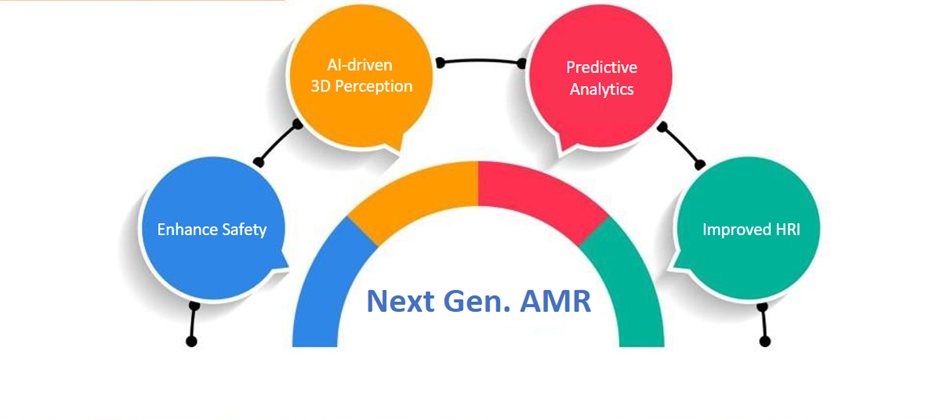 This ensures more flexible, reliable, and safe robots that can perform a variety of tasks by collaborating with humans, ensuring reduced errors and enhanced safety in high-risk environments. Read our blog on cobots (collaborative robots) & safety here.
Below are features that would enable robots to navigate across the fulfillment centers, efficiently and seamlessly.
3D Perception- 3D cameras provide real-time 360-degree visibility of nearby objects, helping them to intelligently identify and differentiate objects, enabling navigation in the narrow aisle, and easily acclimatizing its movements in a low-light environment.
Mapping- The AI capabilities also aid in the development of a 3D map of the entire facility and transfer critical information to the Warehouse Management System (WMS) for quick deployment and task execution
Warehouse Tasks- Deep learning algorithms can be used to accomplish various labor-intensive warehouse tasks (picking, packing, and more) and minimize costs in the long-term
WMS intelligence- To develop path planning, task distribution, battery management, group order, zone picking and gain valuable insights through AI-powered, advanced data analytics, and dashboarding capability
At Ignitarium, we bring in expertise on enabling the software stack for Autonomous Navigation- SLAM, Localization, Path Planning, Perception AI and Functional Safety. As smart mobile robots continue to be deployed in warehouses - increasing productivity with minimum human interference, Ignitarium's Robotics and Perception AI Software team can make reliable implementations a reality, hence driving up RoI for adopters in the long run.